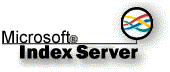 Microsoft® Index Server Guide
Welcome to the home page for the Microsoft Index Server Guide! This page links you to topics that tell you how to use and administer Microsoft Index Server. Click a topic to display that topic or type a word or phrase to search for in the window below.
Copyright Page

The Basics

The Query and Indexing Process

Building Search Forms

Administration

Appendixes

Release Notes
---


© 1996 by Microsoft Corporation. All rights reserved.